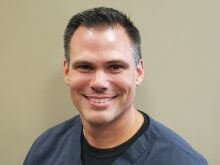 Dr. Anthony Pappas
Chiropractor/Owner
Dr. Pappas is a graduate of Logan College of Chiropractic in St. Louis Missouri. He received a Bachelor Degree in Human Biology and a Doctorate of Chiropractic in 1999.
After graduating he opened his practice to help others regain their health through chiropractic care.
Pappas Chiropractic maintains a commitment to excellence and pride caring for families and individuals of all ages, from newborns to seniors.
Dr. Pappas strives to provide his patients with every aspect of health and wellness. He believes this approach to healthcare will enable people to enjoy long and healthy lives.
Chiropractic care is just one avenue for healthcare that he recommends, Dr. Pappas believes in a holistic approach to health maintenance.
In an effort to provide the best possible care, he consistently updates techniques and services.
Dr. Pappas and his wife, Stacey, are busy raising three children, Alex, Ava, and Andrew. He enjoys spending time with his family but also enjoys hunting, and fishing when his wife allows him to.
Dr. Mike Zwiener
Chiropractor, Acupuncturist
Dr. Mike is a graduate of Logan College of Chiropractic.  He graduated with his Doctorate of Chiropractic in 2013.  He received his acupuncture certification in 2014.  Dr. Mike also received certification in athletic taping and soft tissue therapy in 2016.
Dr. Mike believes in the importance of health and wellness for all his patients. He enjoys getting to know his patients and is truly committed to providing his patients with the best care .
Dr. Mike continues to expand his knowledge of chiropractic and wellness through various education classes, seminars, and workshops.
Dr. Mike lives in Festus with his wife, Brianne.  Together they enjoy hiking, working out, and spending time with family.
Darlene Reed
Chiropractic Assistant
During the fall of 2010 after 9 years in the mortgage industry, it was time for a change in careers. Fortunately for me, there was an opening at Pappas Chiropractic and I was able to join their team.
My husband John and I have been blessed with 2 wonderful children, Christie and J.C. and a beautiful granddaughter, Paysen Olivia.
J.C. is active in sports, so our family spends our spare time supporting him in his sports and just spending quality family time together.
I am very excited to be a part of the Pappas Chiropractic team and I look forward to being a part of your chiropractic care.

Pappas Chiropractic (636) 937-6500